HAZE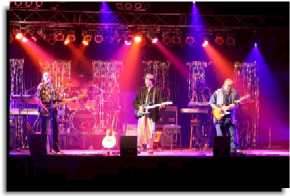 HAZE/SOUTHERN GYPSY" an award-winning band from Northeastern Wisconsin, based out of the Fox Cities, is one of the most Premier vocal groups to come out of the Midwest. "HAZE/SOUTHERN GYPSY" is a high energy, crowd pleasing, versatile act that performs country rock and classic rock.
The band originated from the Midwestern rock band "HAZE" from the late 80's and 90's and has gained popularity by having many of their original songs receive air play throughout the Midwest, in addition to winning many awards and contests including "Star Search" Vocal Group (Midwest winners) and finalists on "Be a Star" (in Nashville) to name a few. The band is currently working on new material to be recorded later this year.
For the last 12 years "HAZE/SOUTHERN GYPSY" has been the favorite regional act to be re-booked to perform at Country USA in Oshkosh WI; the largest country festival in the USA.
In addition to COUNTRY U.S.A. "HAZE/SOUTHERN GYPSY" has performed with many National Recording Artists, such as MONTGOMERY GENTRY, SUGARLAND, EMERSON DRIVE, CHARLIE DANIELS, ALABAMA, JEFFERSON STARSHIP, 38 SPECIAL and STYX, just to name a few.
With performances at SUMMERFEST in Milwaukee, STATE FAIR, HODAG in Rhinelander, Fuddfest in Antigo and countless other festivals, fairs and civic events around the Midwest, music-goers have witnessed this incredible versatile veteran group which has close to 3,000 performances to date.
The group currently consists of six members:
Darrell Hase, Lead Vocals, Electric and Acoustic Guitars, Keyboards
Dennis Hase, Lead Vocals, Bass Guitar
Art Formiller, Lead Vocals, Lead Guitar
John Imobersteg, Piano, Synth, Lead Keyboards
Dave Treichel, Vocals, Drums, Percussion
Randy King Fiddle, Mandolin, Acoustic Guitar
The bands most noted trademark is the vocals of the Hase Brothers Darrell and Dennis. Singing together for over 30 YEARS, the unsurpassed vocals and harmonies of the brothers set this band apart from any other. Add the vocal and musical talents of Artie, John, Dave, and Randy, you witness a band that captures the audience. Art Formiller, LEAD GUITARIST, and John Imobersteg, KEYBOARDS, both hold music degrees and bring to the band outstanding originality..Dave Treichel, DRUMMER, a phenomenal percussionist and seasoned professional, has been performing for more than 25 years with his own group as well as others. Randy King has been playing Fiddle, and Mandolin for 20 years , and also has his own Bluegrass Band.
As always, "HAZE/SOUTHERN GYPSY" has a special show planned, and looks forward to being part of a memorable 2010 and entertaining all. HAZE/SOUTHERN GYPSY will be celebrating 30 years of performing in 2010. So come see the Band this year……..This is a Milestone for any band to be together for 30 years……..
Hope To See Everyone!
PARTIAL SONGLIST
| | |
| --- | --- |
| SONG | ARTISTS |
| Come Sail Away | Styx |
| We Will Rock You/We are the Champions | Queen |
| Don't Stop Believing | Journey |
| Surrender/I Want You To Want Me | Cheap Trick |
| Renegade | Styx |
| Separate Ways | Journey |
| Long Time | Boston |
| Better Life/Love Somebody Like You | Keith Urban |
| Heartache Tonight | Eagles |
| Just What I Needed | The Cars |
| Living On A Prayer | Bon Jovi |
| Carry On Our Wayward Sun | Kansas |
| Fiddle in the Band/Mountain Music | Alabama |
Revised 04/13/11
Copyright ©1996 - 2009 St. John Artists - All Rights Reserved