THE HITS
Welcome to THE HITS home page. THE HITS feature three very distinguished musicians:
DENNIS PROVISOR

: Original keyboard player with "The Grass Roots", Dennis currently has 13 gold records. He plays "double-duty" covering all keyboards, synthesizers and keyboard bass from his position. His amazing voice has stunned crowds worldwide.

"COOKEE" COQUOZ: Originally from Denver, Colorado, "Cookee" is the drummer, acoustic guitarist, frontman, and artist representative for The Hits. He has performed on the National road/show circuit for over 26 years. An accomplished folk artist, "Cookee" has three very successful CD's and a fourth one in production.

"GLEN SHULFER": Glen is one of the few people in the United States that has earned a Masters Degree on classical guitar. A Segovia understudy, his talent has taken him to several different countries with several regional / national groups…including six years as lead guitarist for "The Grass Roots"!! An excellent lead vocalist, Glen is also a gifted harmony singer. His energetic style has enthused crowds worldwide.
THE CREDITS
The following are some of the acts with whom THE HITS have performed: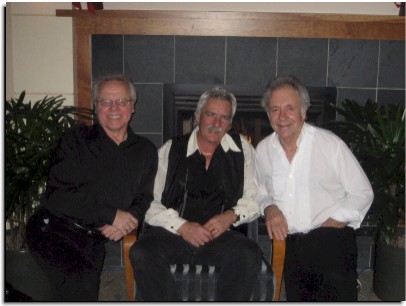 The Beach Boys, America, The Association, The Guess Who, Tommy James, Herman's Hermits, Lou Christie, Leslie Gore, Gary Puckett, The Grass Roots, The Mamas & The Papas, Steppenwolf, Paul Revere & The Raiders, Flash Cadillac & the Continental Kids, The Turtles, Chubby Checker, Tommy Roe, Peter Noone, The Buckinghams, Bobby Vee, Johnny Rivers, Firefall, Sha-Na-Na, Badfinger, Paula Poundstone, and many, many more.
SAMPLE SONGLIST
| | |
| --- | --- |
| SONG | ARTISTS |
| Live For Today | Grass Roots |
| Midnight Confessions | Grass Roots |
| Old Time Rock & Roll | Bob Seger |
| My Girl | Temptations |
| Dream | Everly Brothers |
| Birthday | Beatles |
| Runaway | Del Shannon |
| Takin' Care of Business | BTO |
| That'll Be The Day | Buddy Holly |
| Whiter Shade Of Pale | Procol Harem |
Last Update 04/13/2011
Copyright ©1996 - 2009 St. John Artists - All Rights Reserved